Frequently Asked Questions Tagged as Affiliate Campaigns
Some ads are associated with more than one affiliate networks, countries, ad networks etc. Due to the size limitation of the single ad unit, we cannot display all the labels. In such cases, we display +n icon where n represents the number of additional available labels. You can see other labels by hovering your mouse over the +n icon as shown in the image below: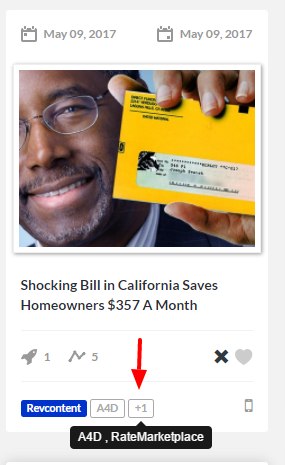 Method 1
The best method is to use Trackers drop down filter and select All from the drop down menu. Most affiliates use one of the 7 tracking tools that our bots can detect. Read more about it here. This is by far the most effective way to filter the affiliate network campaigns.
Method 2
Another option is to use Affiliate Network drop down filter. You can either select ALL which will show all the campaigns that we were able to tag as affiliate campaigns or choose a specific affiliate network. Please keep in mind that our detection rate for affiliate campaigns is not 100%. Therefore we highly recommend Method 1.
We cover a huge number (250+) of affiliate networks (more networks than any other tool) for our Push Spy Tool. Here is the complete list.
3.14Digital

3SNet

500Affiliates

eBayPartnerNetwork

iConceptMedia

iGoal

imaXcash

mappstreet

uMobix

vCommission

yBox

A4D

Acquirely

ActiveWins

Ad4Game

Adcanopus

AdCombo

Adda52

Adera

AdHive

Adit-Media

Admitad

AdMobo

AdMoustache

Adpump

AdsplayInternational

Adtrafico

Adverster

Advidi

AdWorkMedia

AdZappy

AdZealous

Aff44

Affiiate4Web

Affil4you

Affiliate2day

AffiliateDragons

AffiliateHeavens

AffiliateMates

AffiliateNinjas

AffiliateWindow

Affiliati

AffiliAxe

AffnetMedia

Affonix

Afilio

AgoraFinancial

Akamuro

AlgoAffiliates

Aluna

Alzak

AmpedMedia

AnastasiaAffiliate

ApoxyMedia

AppAlgo

ApproachX

ArabClicks

ArabyAds

ArpuAds

Assurance

AvaPartner

Awin

BDSC

Beeleads

BigBangAds

BinPartner

BluePhoenixNetwork

BongaCash

Brokerbabe

BucksMedia

BusinessCom

BuyGoods

BuzzCreators

C2MediaCorp

CactusMedia

Cardata

CasinoRewards

ChaturbateAffiliate

ChineseAN

Clickbank

ClickBooth

ClickDealer

ClickPoint

CommissionJunction

ConvertingTeam

CooMeet

CPAGrip

CPAMatica

CPTarget

CrakRevenue

Credit.comAffiliateNetwork

CyberGhostVPN

DatingGold

DGMAXInteractive

DigitalVirgo

DigiTouch

DigiZag

DollarUpload

DrCash

DynuInMedia

EasyLead

EGamingOnline

EnvyusMedia

EonianTec

ExoticLead

ExpressRevenue

Finch

FinMe

FluentCo

Foregon

FunHell

GamesVid

Gasmobi

GiddyupGroup

GMAMobi

GnogMedia

GoOffers

Gotzha

HakaMobi

HalexoMedia

HugeOffers

HyPercentage

IGAffiliateProgram

InboxLabs

InSparx

InsparxAffiliates

Instal

InvestingChannel

IQOption

JVZoo

KaineroMedia

Kantar

Karamba

Kenshoo

Kindico

KosmosMarketing

Leadbit

LeadGid

LeadHits

LeadsGlobal

LeadSynaptic

LeadTrade

LegacyResearch

Lemons

LendingTreePartner

LinkConnector

LinkShare

LTVCo

LunaParkMedia

M4Trix

MarketHealth

MastersinCash

MaxBounty

MedCash

MediaForce

Merkle

MoarOffers

MobAvenue

Mobidea

Mobipium

Mobpium

Mobusi

MobVista

Monetizer

Monetizze

MyLead

NaturalIntelligence

NeoLeads

NeonFlux

NetCore

NewMarketHealth

NordVPN

NutriProfits

Oasis

Offeriz

OfferToro

Olavivo

OMGLtd

Optimedia

Plarium

PMLDigital

Point2Web

PoundPartners

PrimalHealth

ProspectOne

Proton

Pubit

Publicis

PureHealthResearch

PWNGamesNetwork

QpidAffiliate

Qubiq

RagingBull

RainMakerAdVentures

RateSpecial

ReachMobi

RealizeYourDreams

Rebll

ReflexAffiliates

ReflexCash

ReklamStore

RevolutionForce

Rextro

Rizk

ROIandCo

ROIKingdom

SellByLead

SendT

ShareASale

SirenGroup

Slimspots

SlingAds

SmartGlobalMedia

Soicos

StartEndMarketing

SuperBoss

SuperMoney

Tamga

Tappx

TapStone

Taptica

Tarsan

TerraLeads

TheDatingNetwork

Themobiadz

Tidok

Toluna

TopOffers

TotalAV

TradeDoublerUK

TrafficCompany

TrafficDealer

TrafficGridMedia

TrafficOn

TraffiCrave

TraffixMedia

Travelpayouts

Tremendio

TriadMedia

UrlPartners

ValueLeaf

VexCash

VikingClicks

VitalityHealth

VitolaMarketing

Webgains

WelionAds

WildBearAds

WisdomCompanies

XCash

XLWin

YeahMobi

YepAds

ZeldaCom

ZeroParallel

ZinqMedia